Good cleaning practices are more important now than ever. Making sure you have the best products for your cleaners can be the difference between the spread of a virus and a healthy workforce.
According to theInternational Journal of Clinical Practice, the amount of cleaning and product usage has increased by around 60% since 2019. What does this mean? We're cleaning more often and we're using more products, and the expectations of those products have become higher. Knowing what makes-up a good cleaning chemical is how you can find the best products that combine both quality and value for your business.
So, what should you look for in your cleaning chemicals?
Sanisiter
A good sanitiser will kill and reduce microorganisms to a safe level using cationic surfactants (surface active agents) like quaternary ammonium compounds that combine bactericidal and virucidal activity (the killing of bacteria and viruses) with strong detergency.
Disinfectant
When it comes to disinfectants, you should be looking for the use of components that also have a strong odour control element. Quaternary ammonium compounds formulated with surfactants, sequestering agents, water softeners and a biocide will act as a strong disinfectant. Biocides is a chemical mixture intended to destroy, deter and exert a controlling effect on harmful organisms.
Degreaser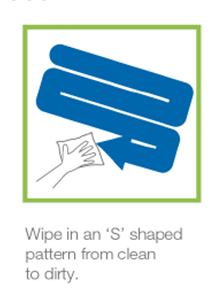 Grease is an organic soil which means that it's best removed with alkaline solutions or bio-based surfactants. The main component of a good degreaser should be emulsifying and soil suspension agents mixed with quaternary ammonium compounds. This formulation of chemicals makes it easier to clean floors, benches, boat decks and other hard surfaces that will generally collect organic matter like grease or dirt.
Good cleaning practice is not only making sure you're wiping down surfaces in the correct S-formation. Making sure you're using the right kind of chemicals of different surfaces is equally as important.