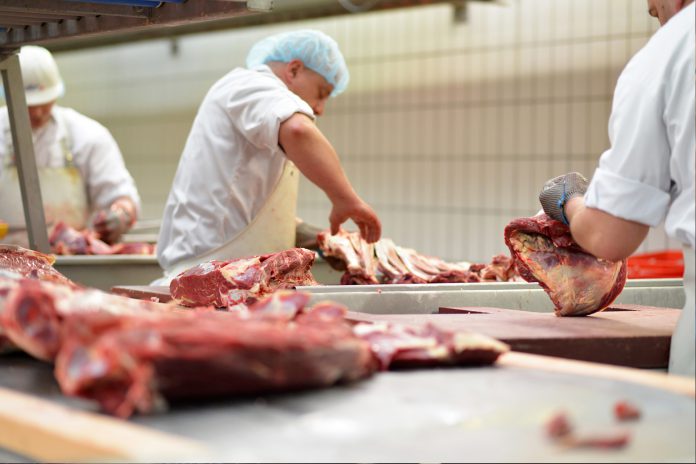 Meat workers have a reputation for being tough – with reason! It's not easy work. They must know the anatomy of the animal, what each cut of meat is best used for, rise early in the morning, work hard all day (splitting carcasses is physical!), and keep up with the latest industry technologies.
And that's why most meat processors demand the highest quality tools – including high-performance bandsaw blades.
The design, functionality and sharpness of the blade gives business many benefits. Partnering with Munkfors, Khabin supplies high quality bandsaw blades for the food industry, sharpening performance to gain a more competitive edge for the meat worker.
Unique profile-grinding technology
To produce the teeth of these top-quality blades that outperform most other brands, unique and patented profile-grinding method is used that gives:
• Sharper blades
• Cleaner cutting
• Uniform cutting geometry
• Longer blade lifetime
• Minimum downtime
• Very little material waste
Many benefits in carcass splitting
The design, functionality and sharpness of the saw blades offer many benefits. They help to achieve cost-effective processing, a product appearance that attracts customers and hygienic practices that minimise microbial contamination. Other benefits are a good surface finish and increased product shelf life. Furthermore, the right cutting geometry of these blades minimises waste and helps to keep product surfaces clean.
The Khabin range offers tough high-performance bandsaw blades of different configurations and teeth configurations, manufactured from the best strip steel available – to ensure they cut easily through all types of carcasses.
Also available from the Khabin range are high-quality skinning and boning knives.
| | |
| --- | --- |
| BKP0915001806 | Khabin knife Skinning Orn 6 inch |
| BKP0715009806 | Khabin knife Boning wide cur orn 6 inch |