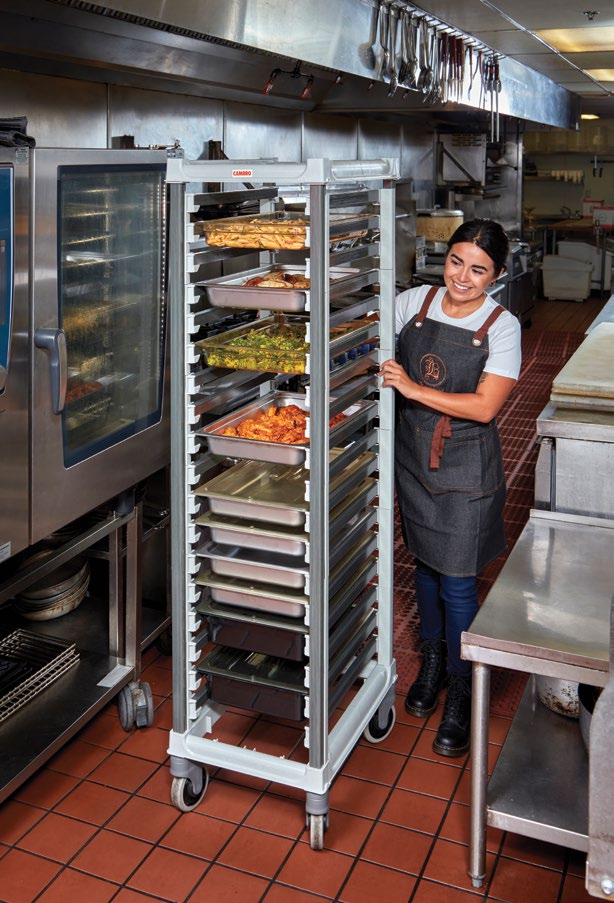 Finding the ideal trolley to transport food in bulk around the kitchen can be difficult: you'll need one that's sturdy enough to run smoothly across floors, lightweight enough to push easily, and versatile enough to handle a range of different temperatures. If you're likely to take it out of the kitchen, you'll need one that presents well, too.
Representing a major revolution in bulk food holding, Cambro's Camshelving Food Pan Trolley offers all these attributes — and a lot more. Perhaps most impressive is its build quality, employing a state-of-the-art composite plastic material that is virtually unbreakable. This banishes any worries over failing weld points, as can often be the case with metal models.

The hard-wearing material means the trolley's frames won't dent nor its edges sharpen, even in a busy kitchen where of course accidents can happen. The trolley, available in GN 1/1 and GN 2/1 models, is also impervious to food acids and harsh chemicals, making it extremely easy to clean, as well as guaranteeing it for a lifetime against rust and corrosion.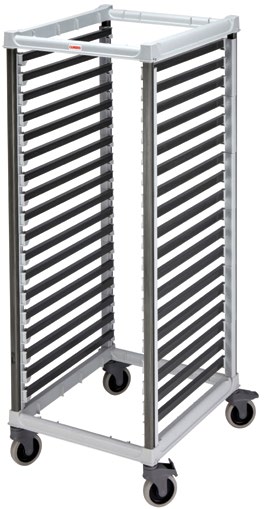 Mobility-wise, the Camshelving Trolley uses four premium swivel-casters with non-marking wheels to help the unit glide across all types of flooring, including potentially ridged and bumpy tiles. Two solid locking frames, one top, one bottom, ensures a robust structure when on the move. It's not afraid to do the lion's share of lifting either, with the full-sized unit offering a load-bearing capacity of 340 kilograms, while being sufficiently lightweight to push around with ease.
And like all good kitchen units, this one scores big on versatility. In this case, the trolley can be used in a walk-in freezer or in a hot kitchen, capable of holding frozen foods, pans directly from the oven at 200°C, and everything in between.
Contact your Bunzl representative for more information.