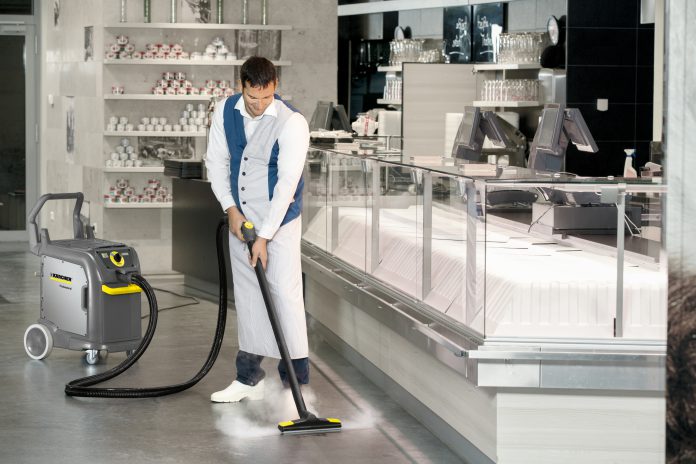 Steam is a natural and thorough way to clean and therefore an ideal alternative to conventional cleaning methods. It doesn't require the use of any chemicals as the combination of steam power and temperature is enough to break up stubborn dirt. Steam is considered the most economical and cost-effective form of pest control and kills up to 99.999% of coronavirus[1] by disinfecting surfaces in & around commercial facilities.
Six reasons to clean with steam:
Steam cleaning is 100% chemical free
It doesn't require scrubbing to remove stubborn dirt
Steam is environmentally friendly and uses 90% less water than typical cleaning procedures
Delivers a hygienic clean even in hard-to-reach places
Cleaning with steam saves time
It also saves money as steam does not require extra cleaning agents
| | | | | | |
| --- | --- | --- | --- | --- | --- |
| | | | | | |
| Chemical Free | No Scrubbing | Reduces Cleaning Time | Less Water | Hygienic | Saves Money |
While the SGV 8/5 Steam Vacuum Cleaner is easy to operate, user friendly, simple and quick to handle meaning there's no need for extensive training. With Eco!Efficiency programs for every application, the SGV 8/5 Steam Vacuum Cleaner has a self-cleaning mode to restore hygiene and cleanliness. It's better for the environment as it does not require any harsh chemicals and utilises a handle with trigger for convenient function control during operation. The SGV 8/5 Steam Vacuum Cleaner is the perfect cleaning solution for butchers, kitchens, industry, changing rooms and healthcare.
dfsgsdgdsdf
With a two-tank system, the SG 4/4 Floor Steam Cleaner's freshwater tank can be continuously filled for long periods of cleaning. The VapoHydro function allows for an adjustment of steam level to suit any cleaning task and includes a hot water jet option for stubborn dirt. Using the SG 4/4 Floor Steam Cleaner means that your cleaning process requires no harsh chemicals perfect for use in supermarkets, hotels, spas, change rooms and kitchens. It also includes on-board accessory storage so that small parts are easily found and accessible.
[1] *Accordant to EN 16615, PVC surface, machine: SG 4/4 and SGV 6/5 with conclusion of analogy to SGV 8/5 (Floor nozzle with lamellae, cotton cloth, max. steam pressure, min. VapoHydro, 30 cm/sec.) Test-germ: murine norovirus, adenovirus (excluding Hepatitis-B), under low organic load.