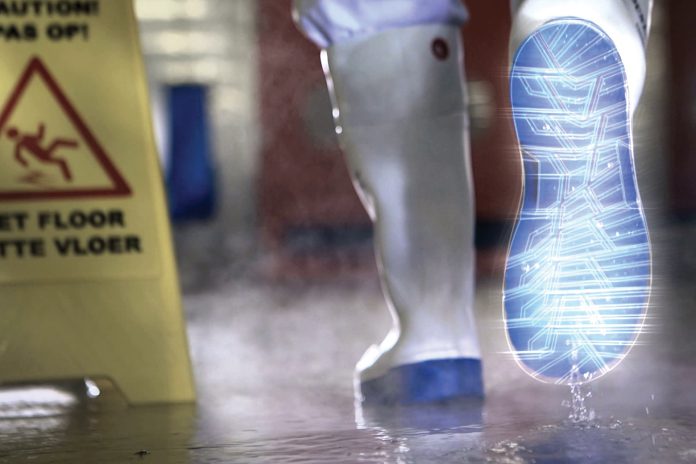 Slips & Trips is the second most commoncause of serious injury in the workplace. After "manual handling", comes slips & trips accounting for 25 % of serious accidents. Therefore, worldwide costly campaigns are being made on prevention. Slip prevention can reduce injuries significantly and the correct choice of PPE footwear can contribute to the same.
The biggest challenge in food processing is managing Health and Safety on the one side and Cost Control on the other side. Cost Control is key to being able to remain competitive in this market.
To prevent slips and trips due to wrong footwear, selecting the right type of footwear developed for the specific demands of the food processing environment is highly important.
Key Elements of Safety and Comfort
Proper footwear gives the people in the workplace the right protection, while giving the employer the benefits of higher productivity and cost savings because of fewer injuries and sick days. In the workplace the people are standing or walking 8 to 10 hours per day, under conditions in which temperatures can vary extremely. Reliable footwear is a basic need for them.
Research among factory workers indicates that there are 5 Key Elements in selecting the right type of footwear. For every element there are benefits to both employee and employer.
1. Protection & Safety:
Employee: Footwear must protect against falling objects and provide the highest possible slip resistance (SRC) which will result in less accidents due to slips, trips and fall's.
Employer: Investing into the best PPE will lead to less costs for claims and other indirect costs.
2. Warm, dry and good fit:
Employee: Proper insulating footwear keeps the feet warm, dry and comfortable during 8+ hours work shifts. Gender specific moulds that fit the different proportions of male and female ankles and calves.
Employer: Workers who feel more comfortable at their job will perform better and show more commitment.
3. Lightweight & Flexibility:
Employee: An average pair of PVC boots is 500g heavier than a pair of Purofort® boots. Walking an average of 10.000 steps means saving 2.500kg a day that leads to less tiredness and less back and joints pain.
Employer: The advantage of lighter boots results in less down-time of employees due to medical condition and better performance.
4. Cross contamination & Area Recognition:
Employee: Dunlop boots offer hygiene for the worker himself, with anti-bacterial lining, moisture absorbing properties and odour control.
Employer: Choosing the right footwear also helps to reduce the risk of cross contamination and all its effects.
5. Durability:
Employee: Enjoying the comfort up to 3x longer than traditional PVC boots.
Employer: Less frequent exchange means less purchase costs.
* The Health and Safety Executive (HSE) is the body responsible for the encouragement, regulation and enforcement of workplace health, safety and welfare, and for research into occupational risks in England and Wales and Scotland.
* The National Safety Council eliminates preventable deaths at work, in homes and communities, and on the road through leadership, research, education and advocacy.