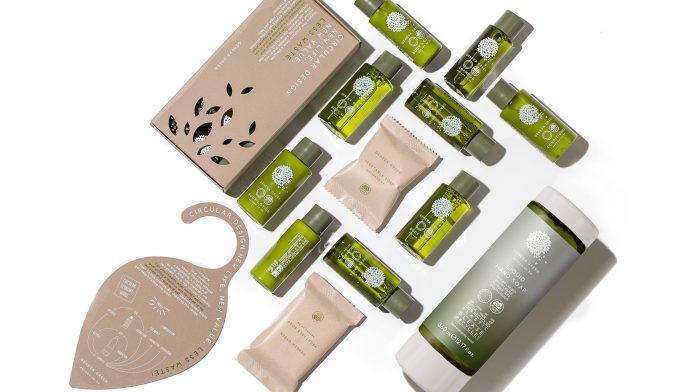 According to Hospitality Net, 58% of consumers prefer to stay in what they consider "environmentally friendly" accommodations. When sustainability is such an essential part of doing business, finding better way to meet these expectations is key going into 2022.
It's hard not to be impressed by a guest amenities range that is not only great to look at and lovely to use but has sustainability at its core. The Geneva Green range, by GFL, is created through a process known as the "circular economy" – every aspect of its manufacture is sustainable.
Its larger 360ml bottles, smaller 30ml bottles and caps are made from 100 per cent post-consumer recycled plastic. In essence, when recyclable plastic products are processed at specialised facilities, they are broken down into reusable flakes known as post-consumer recycled plastic.
These flakes, when handled properly, can be re-formed and reused infinitely. This is the circular economy: it closes the loop of having to ever use new plastic, which is incredibly good news for the environment. It's why Geneva Green's bottles aren't all exactly the same – the variation in colour and appearance is a side-effect of using post-consumer recycled plastic.
The range, which includes a shampoo, conditioner, body wash and body lotion, also features smaller labels. This has a bi-fold benefit: it aids in the sorting phase of the recycling process and uses less materials to create.
Geneva Green is also 100 per cent vegan, contains no alcohol, EDTA or petrolatum and has nickel concentrations of less than 0.0001 per cent.