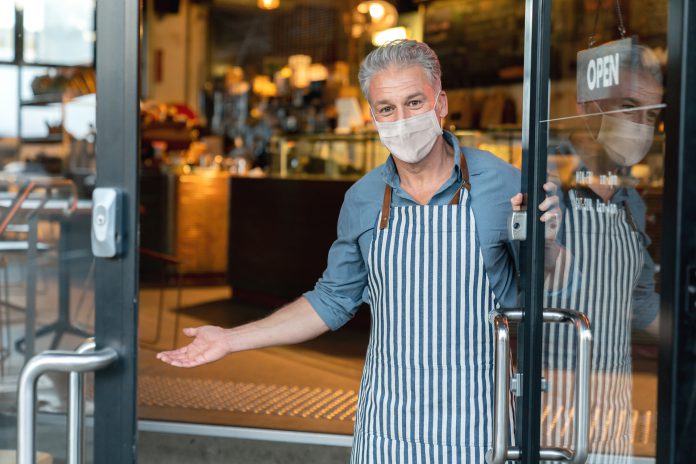 During 2020 our world changed and dining out in restaurants disappeared altogether. This would have been unimaginable to us the previous year.
While quick service restaurants (QSRs) quickly adjusted to takeaway and home delivery, full-service restaurants have been more vulnerable to the waves of change. Some moved quickly to a takeaway model while others simply closed – either way, their return will be slower. Consumer confidence around the safety of dining within a venue will play a pivotal role in the return of the traditional dining experience.
The guidelines around patron numbers dining indoors versus courtyard and street-side dining are clear, so check your state and local laws for details. Capacity is restricted, but whether sitting inside or alfresco, customers may still be wary. Concerns about the closeness of seating arrangements with other dinners, engaging with the serving staff, and passive proximity when entering or exiting the premises have to be well managed by the restaurant operator, to ensure the customer experience is at its best. Businesses want customers to not just stay, but return.
Very few businesses can keep their doors closed waiting for a CoVID-19 vaccine, so all points of customer contact and interaction need to be considered. Customers will return when they know hygiene and safety measures are in place and they can dine feeling protected and positive in their surroundings. For restaurant owners it is imperative to introduce measures that reduce the anxiety of in-dining patrons.
Controlling traffic flow, limiting occupancy to maintain physical distance, ensuring staff wear appropriate personal protection equipment, and considering an alternative to a central ordering and payment stations are all to be rethought to reduce customer anxiety and boost confidence.
Cleaning, sanitising and disinfection are also part of this solution. Temperature checking staff and customers on arrival, and having hand-sanitiser readily available are continued quality assurance processes for both staff and customers. Regularly wiping down and disinfecting tables, benchtops and surfaces should be built into your staff's routine. When your customers can see efficient and effective disinfecting of tables between service, they will be assured they are seated at a hygienically treated table themselves.
Reducing the likelihood of surfaces being touched multiple times is also important. Cutlery sleeves and other use of disposable packaging, with a focus on sustainability, it's a great way to minimize multi-touch and cross-contamination scenarios.
Ensuring your bathroom amenities areas are clean and tidy is another vital indicator to your customers that you take their experience seriously. Increase your cleaning cycles and visibly report on bathroom maintenance, ensuring your customer can see how important their safety and protection is to your business.
The return of full-service dining will rely on building consumer confidence and diminishing anxiety in their experience. So, when you have all of these measures in place – don't forget to tell your customers about it. Use social media, include flyers in takeaway bags and be visibly on top of all your hygiene and safety processes for your patrons to see when they dine-in.
Rethinking how your restaurant operates and redefining your customer's experience will impact your ability to thrive in our next CoVID normal. Reducing risk is about protecting, disinfecting and mitigating your staff, customers and guests.